Manage Devices
The Devices section of the Admin Area shows the list of computers and devices that have the Take Control agent installed as an unattended service. Edit and view information about each device, deploy scripts, run audits, and start a support session from the device list.
The left side of the page contains a tree with all devices and their respective groups. Search for a specific computer, or use the filter options to sort the list by name, domain, MAC address, devices with monitoring or that are currently online, or view all groups.
Select one or more devices from the list and click

at the top of the page to choose from the following actions:
Move devices to another group

To run a monitoring report and audit devices directly from the Devices page, select More > Monitoring Report, choose the type of report, and click Select monitoring report to view the report and send it to the specified email address.

Restart the Agent on the selected device
Click any column in the Devices section to sort the list, or use the

button to the right of the search bar to toggle columns on or off.
Select a device and click Connect at the top of the page, or use the

icon next to the device to start a remote control session directly from the Admin Area.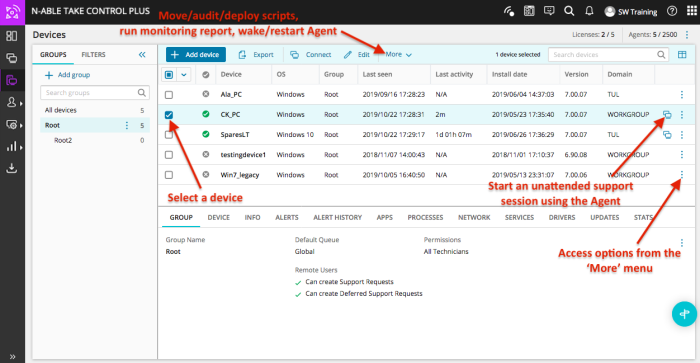 Add Groups to organize devices
Navigate to Devices and click Add group.
Enter the name and description of the new group and fill out the Customer details section.
In the Remote Users section, specify if users can create deferred or regular support requests
In the Permissions section choose which technicians have access to the computers in the group.
Click Save to confirm the addition of the new group.
Add new Devices
Click Add device, enter the device name and select an operating system and a group.

Select Microsoft Windows MSI to install the Agent on multiple devices.

Enter the Customer details.
Specify the number of installations allowed by the install link that is generated after the new device info is saved.
Select a Link expiry and Device expiry.
Click Save to generate an install link and add the new device to the group.
After the device has been added, select it from the list of devices and click Edit to configure the appropriate permissions.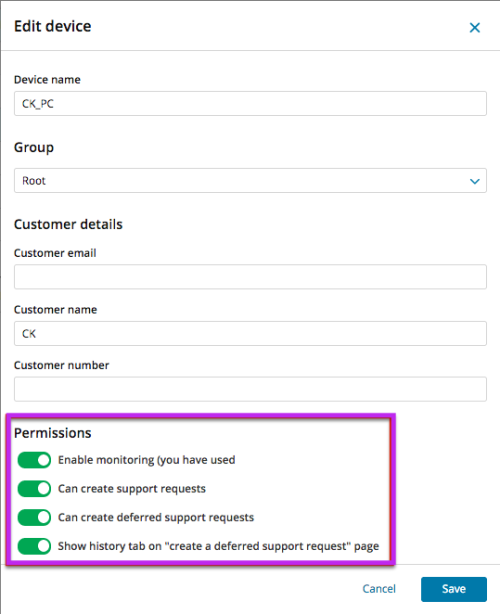 Receive alerts for devices with an unhealthy connection
Receive an alert and associated error message for devices with unhealthy connections to the Agent, indicating the device is connected to the Take Control network with limited connectivity and is not connected to a gateway. To prevent this error, make sure the Hardware and software system requirements for Take Control are being met.

View monitoring information for Windows devices and Mac devices with v6.00.42 of the Mac Agent installed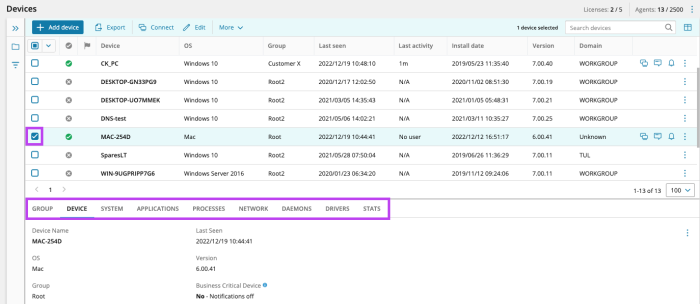 Install the Take Control Mac Agent on your Mac device and view it from the Devices menu with additional monitoring tabs showing useful information about the device.
What do you want to do?