Send push notifications and alerts
Send push notifications to devices with the Take Control agent installed. This displays a custom message on the screen of a selected remote device to inform the end user about maintenance periods or send urgent notifications to multiple devices with one click.
Log in to the Admin Area and navigate to the Devices page.
Select the device from the list, and click the Alert iconnext to the device to open the notification editor window.

You can also access this feature by clicking the Additional Options Menu next to the device and selecting Send Message.

Type the message and optionally include a URL, which opens automatically in the user's default browser.

Select Require Acknowledgment from End User and enter the text that the end-user will see, which requires them to confirm they read the message.
Click Send to deliver the notification.
To send a notification to multiple devices at once, select the devices from the Devices List, click the

menu and select Send Message.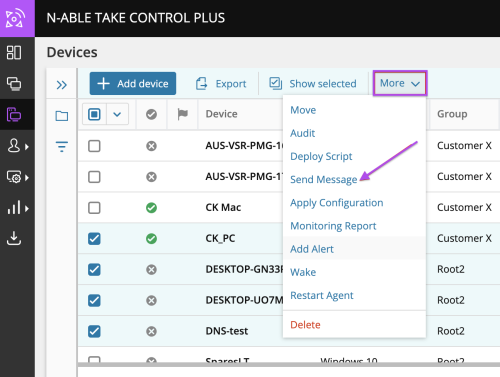 What do you want to do?