Documents Edition Data Restore Options
To offer an enhanced solution, standalone
Cove Data Protection (Cove)
has replaced
Backup & Recovery
. Where
Backup & Recovery
has been enabled and continues to be so for devices, the options presented here are still available.
Where Backup & Recovery options are not present on your N-sight RMM dashboard, this means you will now need to use Cove.
To start a 30-day free trial of Cove by clicking into the app switcher in at the top right of the N-sight RMM dashboard, and selecting Cove Data Protection (Cove).
Documents Edition supports the following restore options:
Restore any file version from the last 28 days
Search and select the files or directories to restore
Restore-only mode
As only specific file types are included in the Documents edition selection, please be aware that the following restore options are not supported:
Restoring data through the Recovery Console
Virtual Drive
Virtual Disaster Recovery
Bare Metal Recovery
Restoring data to network shares or remote servers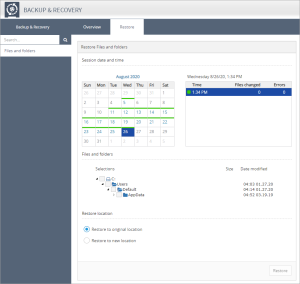 What do you want to do?