Submit a deferred support request from
Take Control

's End User Area

End users of Take Control can use the deferred support request option in the End User Area to report and submit problems with their devices to a Take Control technician. The Deferred Request form is accessible from the End User Area as well as from the Agent Configuration window. The questions that appear in the form can be configured and customized from the Admin Area.
Select the Ticket icon next to the relevant device to generate a Deferred Support Request without establishing a remote session.


If the ticket icon is not displayed next to a device, it means that device is not configured to create Deferred Support Requests. To grant an End user permission to create Deferred Support Requests, navigate to the Devices section of the Admin Area, select the device from the list and click Edit to access the Edit Device window. In the Permissions section, make sure Remote user can create Deferred Support Request is turned on.

This opens the Deferred Support request form that the End User can fill out to request support from

Take Control

technicians.

End Users can fill out the form with their name, email address and a brief description of the issue as well as answers to questions that are created and customized by

Take Control

technicians in the Management > Deferred Requests section of the Admin Area.
Click Upload or drag and drop files into the specified area to attach files specific to the reported issue.
Select New deferred request to save the request and send it to the

Take Control

team.
After submitting the Deferred Request, the end user is navigated to the list of Deferred Requests for their End User Area where they can view details for all current requests and update the Problem Description for any open requests.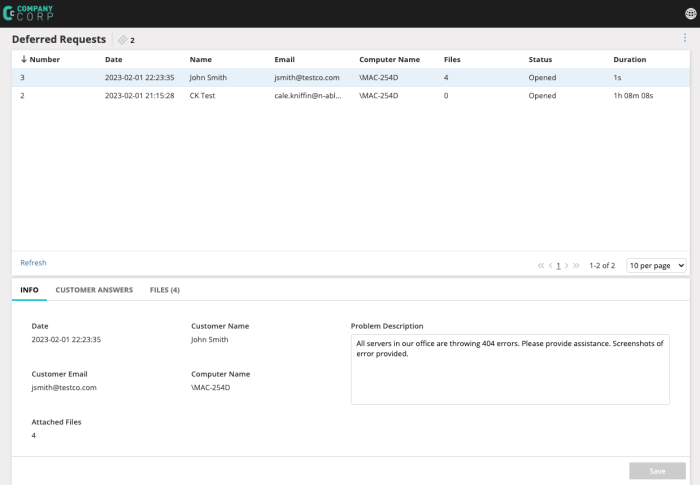 What do you want to do?