Access the Advanced Session Options menu
Select

to access the following high level options available in the Advanced Session Options menu: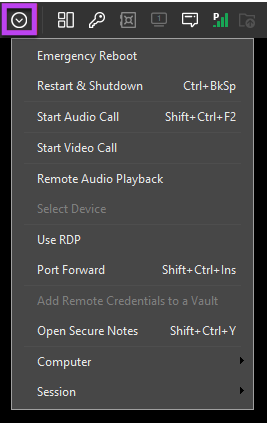 Emergency Reboot – shuts down and restarts the remote machine if you run into an issue that requires a reboot.
Restart & Shutdown – provides options to select from restarting or shutting down the remote machine.
Start Audio call – starts a voice over IP call with your customer during a support session.
Start Video Call – launches a video call with your customer during a support session.
Remote Audio Playback – captures all audio playback on the remote machine and replays it through the Technician Console, allowing the technician to be aware of all the systemic audio alerts, and identify any other running sources of audio.

From Take Control Windows Agent 7.00.38, when a technician chooses a microphone from the "Remote Audio Playback" Select Device list, the end-user receives a prompt to allow or deny microphone access. The end-user has 60-seconds to authorize the microphone access request.





Use RDP (Agent only) – uses Microsoft's Remote Desktop Protocol instead of the Remote Desktop feature in Take Control. The remote tab on the Viewer is disabled and replaced with Microsoft's Remote Desktop Protocol.

Make sure you are using Microsoft Remote Desktop from the Windows Store. Click here to earn more about using Microsoft's Remote Desktop app

Port Forward – forwards TCP traffic from a local port to a port on the remote computer.
Add Remote Credentials to a Vault – request that the user input their account data so it can be securely vaulted. This info is not viewable by the technician.
Open Secure Notes – enter notes and apply them to the Secrets Vaults if needed.
Additional options available when using the Applet for a one-time session:
Share my screen (View Only) – shares screen with view only permissions.
Share Control of My Screen (Keyboard and Mouse) – shares screen and provides ability to control keyboard and mouse actions.
What do you want to do?