Backup Manager GUI
To offer an enhanced solution, standalone
Cove Data Protection (Cove)
has replaced
Backup & Recovery
. Where
Backup & Recovery
has been enabled and continues to be so for devices, the options presented here are still available.
Where Backup & Recovery options are not present on your N-sight RMM dashboard, this means you will now need to use Cove.
To start a 30-day free trial of Cove, click the app switcher in the Product bar, and select Cove Data Protection (Cove).
Backup Manager is the interface used to manage the backups on the device, where you can configure additional data sources, initiate backups in the Professional edition and perform restores on any server or workstations where Backup & Recovery is active.
Device
Log on to the device
Click the Backup Manger icon on the desktop (where available)
or
Go to Start > All Programs
Open Backup & Recovery Backup Manager
Dashboard
Right-click on the target device in the

North-pane

of the Dashboard (or from the Server or Workstation drop-down)
Go to Backup & Recovery
Select Open Backup Manager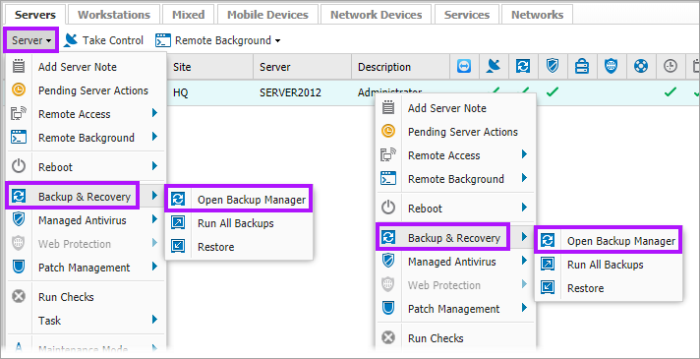 If changes are made to the Schedule, Backup selection or LocalSpeedVault in the Backup Manager, the policy becomes set at the individual device level and the device will no longer inherit the policy settings for the overall device type, Client or Site.
The HTML Backup Manager (available from Backup & Recovery 2014 onwards) is supported in the following browsers:
Google Chrome
Mozilla Firefox
Microsoft Internet Explorer 10 and later (Edge)
Once opened, Backup Manager will open in a new tab of your browser at the Overview tab. Backup Manager has 4 tabs, detailing the following topics: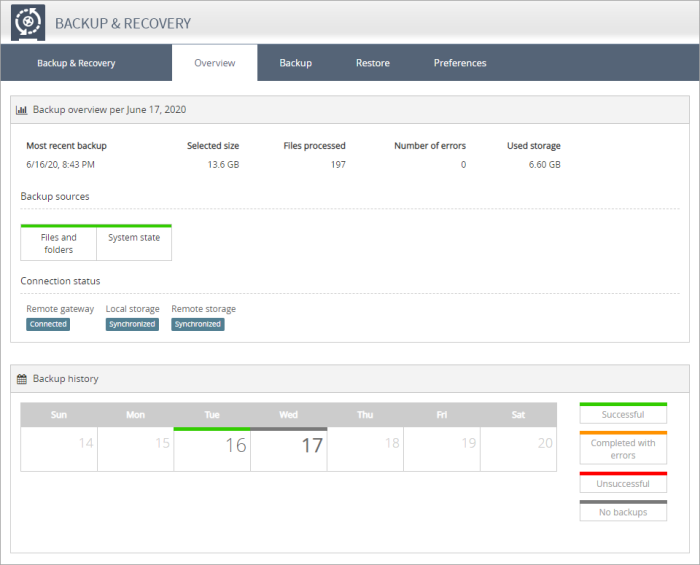 Information for the Backup & Recovery Documents edition Backup Manager is covered here.
Click Backup & Recovery in the header bar of Backup Manager to display details on the device and the Backup Manager version.
From here you can also run a Connection Test to ensure data is successfully transmitted and received.
What do you want to do?