Backup & Recovery Installation State
To offer an enhanced solution, standalone
Cove Data Protection (Cove)
has replaced
Backup & Recovery
. Where
Backup & Recovery
has been enabled and continues to be so for devices, the options presented here are still available.
Where Backup & Recovery options are not present on your N-sight RMM dashboard, this means you will now need to use Cove.
To start a 30-day free trial of Cove, click the app switcher in the Product bar, and select Cove Data Protection (Cove).
The Backup & Recovery column, when selected from the Columns menu of the Dashboard's North-pane, indicates the state of the Backup & Recovery installation for each device. This information also reported in the Summary tab for each device.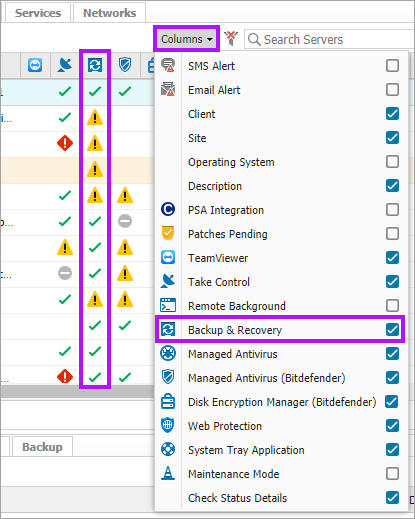 What do you want to do?