Display devices running Backup & Recovery on the Dashboard
To offer an enhanced solution, standalone
Cove Data Protection (Cove)
has replaced
Backup & Recovery
. Where
Backup & Recovery
has been enabled and continues to be so for devices, the options presented here are still available.
Where Backup & Recovery options are not present on your N-sight RMM dashboard, this means you will now need to use Cove.
To start a 30-day free trial of Cove, click the app switcher in the Product bar, and select Cove Data Protection (Cove).
Information on the current Backup & Recovery installation status for all devices is available in the dashboard.
Multiple Devices
The Dashboard's North-pane indicates the current Backup & Recovery installation state against each device. This information is also available from the Device Inventory Report available from the Reports menu.
| Status | Icon |
| --- | --- |
| Active | |
| Pending or Deactivating | |
| Installation or Deactivation Failed | |
| Not Compatible | |
| Not Installed | [No Icon] |
The Backup & Recovery information is only displayed when the Backup & Recovery column is enabled in the North-pane and Report Columns drop-down.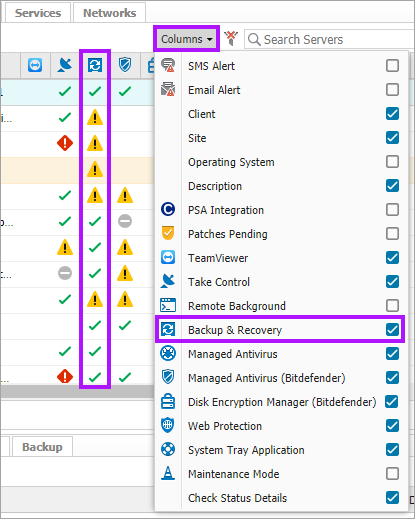 Device Inventory Report
To view the Device Inventory Report:
Go to Reports
Click Device Inventory Report to open the

Device Inventory Report

dialog in a new browser tab
Use the filters to choose the target selection:

| Filter | Description |
| --- | --- |
| Clients | Select the Client from the drop-down list or choose All Clients |
| Sites | Where a specific Client is selected you can then choose All Sites or a specific site |
| Devices | Choose All Devices or a specific Device type Servers or Workstations |

Click Generate to view the HTML report
Click CSV Export to download the CSV version and choose the export option: Download now or Run in background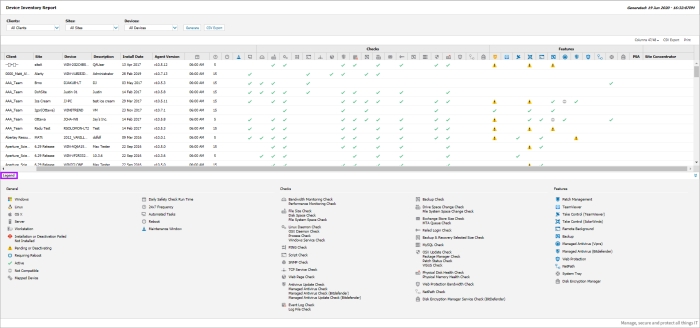 Individual Device - Summary Tab
At the device level, the Backup & Recovery installation status is reported in the Summary tab (South-pane).