Run backups
To offer an enhanced solution, standalone
Cove Data Protection (Cove)
has replaced
Backup & Recovery
. Where
Backup & Recovery
has been enabled and continues to be so for devices, the options presented here are still available.
Where Backup & Recovery options are not present on your N-sight RMM dashboard, this means you will now need to use Cove.
To start a 30-day free trial of Cove by clicking into the app switcher in at the top right of the N-sight RMM dashboard, and selecting Cove Data Protection (Cove).
Once Backup & Recovery is enabled, the required installation files are download via the Monitoring Agent and installed on the device. Any policy configured data sources (Files and folders and/or System State) are then backed up based on the policy's schedule.
You may have instances where you need to perform a backup outside of the configured schedule, therefore you also have the facility to run manually initiated backups, both on individual and multiple devices at once.
The following Run Backup options are not available for workstations or laptops using Backup & Recovery Documents Edition
Individual device
Right-click on the device in the

North-pane

of the Dashboard (or from the Server or Workstation drop-down)
Select Backup & Recovery and then click either:

Open Backup Manager - opens an instance of the devices Backup Manager in a new tab of your browser

In Backup Manager select the Backup tab
Click Run backup

Run All Backups - once selected all backups for the device will be run as soon as possible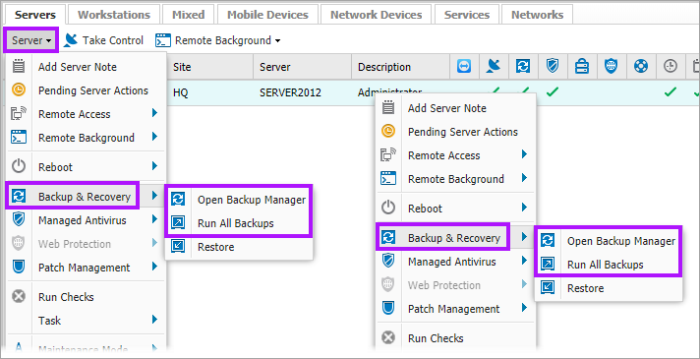 The Run All Backups option is also selectable in the device's Backup tab.

Multiple Devices
Multi-select the target devices in the

North-pane

of the Dashboard (use Shift+ left-click to choose a range or Ctrl+ left-click for specific machines)
Right-click on one of the devices (or from the Servers, Workstations or Devices drop-down)
Choose Run All Backups
View and edit the selection in the Bulk Device Action window

Devices unable to perform a backup (for example Backup & Recovery is not installed) are automatically deselected
Once the device selection is finalized, click Run and all  backups for the selection will run as soon as possible
What do you want to do?