Backup & Recovery Tools
To offer an enhanced solution, standalone
Cove Data Protection (Cove)
has replaced
Backup & Recovery
. Where
Backup & Recovery
has been enabled and continues to be so for devices, the options presented here are still available.
Where Backup & Recovery options are not present on your N-sight RMM dashboard, this means you will now need to use Cove.
To start a 30-day free trial of Cove, click the app switcher in the Product bar, and select Cove Data Protection (Cove).
Additional tools are available for Backup & Recovery.
Bare Metal Recovery, Recovery Console and Virtual Drive are available from both the Dashboard and below links. The Server Tool (used when uploading a Seed Backup ) is only available from the links below.
Dashboard
Log into the Dashboard
Go to Backup & Recovery > Download
Select the tool, Backup Manager version and architecture of the device you intend to run the tool on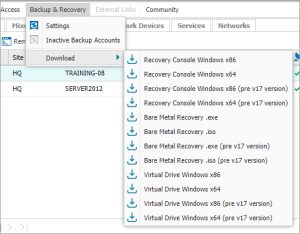 Direct Links
Determine Backup Manager Version
The version number is displayed in the Backup Manager when opened from the Dashboard or directly on the computer.
To launch the Backup Manager for a device:
On the computer
Go to Start > All Programs > Backup & Recovery > Backup Manager

Or,

Click on the desktop's Backup Manger icon (where available)
From the Dashboard
Right-click on the target device in the

North-pane

of the Dashboard (or from the Server, Workstation or Device drop-down)
Select Backup & Recovery > Open Backup Manager
To view the Backup Manager version:
Click the Backup & Recovery tab
The Short version detail is the installed Backup Manager version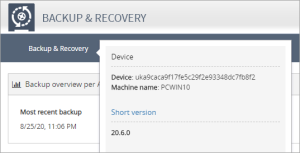 What do you want to do?