Share knowledge with your team
From the left navigation menu of your MSP Manager account, select Knowledge to centralize and share all important information about your customers.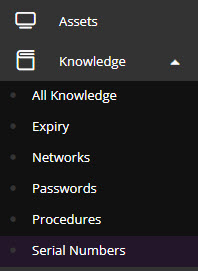 Expiry
Add expiration dates for software licenses and support contracts. Set email notification options for expiry items in Settings > Notifications > Notification Settings.
Networks
Store specific network information for your customer's devices and infrastructure. Create tags for specific network items and track circuit and configuration notes, as well as attachments.
Passwords
MSP Manager stores the login, password, and notes fields using 256-bit encryption and securely transmits using a 128-bit SSL connection.
For an additional layer of security, you can set a password secret for individual passwords, giving you two-factor authentication.
If you forget your password secret, your encrypted data is only recoverable by the owner secret.
Procedures
Document steps for common tasks and edge case scenarios. Examples include:
Software or hardware installations
Migrating user settings to a new computer
How to set up a new printer
Use drag and drop functionality to imbed images into rich text fields. Do not copy and paste as this will display a broken image.
Serial Numbers
Store unique identifiers for hardware and software. Examples include:
A volume license key for Microsoft Windows
The Service Tag for a Dell server
The serial number on a Cisco router
Listed separately from the Knowledge menu, but very much a part of the centralized knowledge items in MSP Manager is the Assets section. Here you can store information about your customers' computers, servers and devices. Integrate MSP Manager with N-central to import devices, and map them to service items in MSP Manager to create tickets automatically when alerts are triggered in N-central. Learn more about creating and configuring Assets in your MSP Manager account.
What do you want to do?