Dashboard Overview
The Risk Intelligence Dashboard displays a variety of widgets which give you quick access to statistics about scanned devices and associated risks. You can choose to show or hide widgets and view related device information.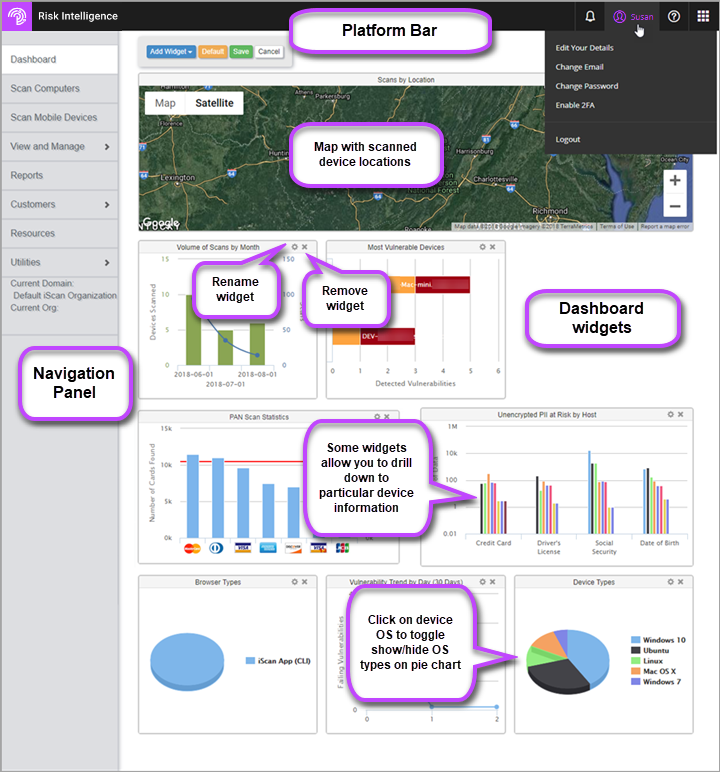 Platform Bar
- Dropdown menu allows you to Manage your Profile.
- Links to the Support Portal where you can access Online Help and Knowledge Base articles.
- Available if you have access to any other applications in our suite.
Navigation Panel
Items displayed in this panel are determined by your access rights as defined by your organization and user role.
Dashboard - Real-time quick view using numerous widgets to display statistics about the devices you've scanned and their associated risk.
Scan Computers - Click here to scan Windows, Mac and Linux computers. Choose from various scan types and delivery methods.
View and Manage - Essential management tools that allow you to perform every day tasks like:

View Individual Device Scan Results - see Single Device Scan Results Reporting.
View Devices Scanned - View device information about scanned devices including Organization, Host Name, Public IP, Mac address, device User, Operating System.
Account Management - Modify Your Account Settings.
User Management - see Add User to an Organization.
Renewals - View account renewal details for organizations under yours and enable/disable Auto Renew on selected accounts.
Domains - Manage your domains and view domain-specific information including sub-domains and sub-organizations.
Scan Configurations - Configure your scan types and settings - see Scan Configurations.
Manage Scan Keys - View scan short codes for all scan configurations throughout the organizational structure. Each short code is unique to the scan type and organization it services.

Reports - Create reports on scanned data to see how your devices are at-risk - see Reporting
Customers - Add organizations to your organizational hierarchy using the Add Customer wizard - see Add Customer
Current Domain/Current Org - Shows the Domain and Organization that you can see. If you want to limit which domain/organization items you want to see, click on the link to change the context of the domain/organization.
Now that you are up and running with your Risk Intelligence system, you can go on to find more information in the Useful Links page - or access the Full Online Help directly.