User Chat
User Chat enables you to connect with a customer directly using a two-way chat, without having to start an active remote-control session.
User Chat supports Windows devices.
You can have multiple chat windows open at the same time, and all User Chat sessions are logged as Two-Way Chat events in the User Audit Report.
User Chat is enabled in the N-sight RMM Dashboard North-pane Servers, Workstations, and Mixed tabs when:
You are logged into

N-sight RMM

as a user with the

User Chat

permission allowed in Roles and permissions
The target customer device has

Take Control

or

Remote Background Management

installed
Roles and permissions
By default, User Chat is enabled for the Superuser, Administrator, and Standard default system roles. It is not enabled for the Client default system role.
If you want to hide User Chat from one or more users, you can create a new role and deny the User Chat option under Features in the Roles and Permissions dialog, and then assign users to that role.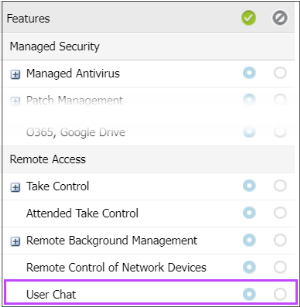 What do you want to do?