System Info - Process and Service Management
The System Info tab provides specific information about the processes and services running on the remote computer during a support session. The technician can consult parameters related to hardware, drivers, event logs, software, system temperatures, windows update policies, etc.
Click Dashboard for an overview of the remote system's information hardware and key software information.
Click to export all information in the selected category to a CSV file.
Click Processes to show CPU, memory consumptions and other indicators for each process. From the right-click context menu technicians can end the process, set the update frequency, sort and refresh the data.
Click Services to display the state, start-up type and type for each services. From the right-click context menu technicians can manage the service, set the startup type, sort and refresh the data.
For sessions made using the Take Control Agent or an elevated Applet, techs can view the ownership of each process and terminate it, if needed.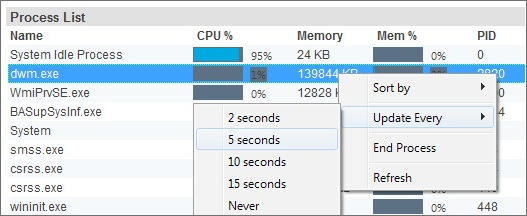 With administrative privileges, right click any service to start, stop, restart and change the start-up type of any service during a session.
Select from the Options menu to view additional information about the Remote Device

Dashboard
Processes
Network
Applications
Services

The following system information is only available on Windows operating systems.

Drivers
Startup
Interactive User
Events
System Health
Windows Updates
Click the System/Request Details icon in the console's top menu for a quick view of the remote device's system details. You can also view the customer's support request details as well.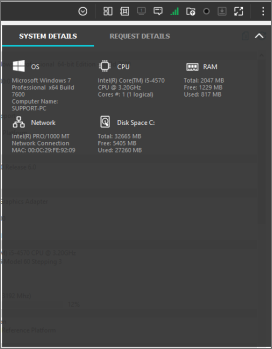 What do you want to do?