Network shares
To offer an enhanced solution, standalone
Cove Data Protection (Cove)
has replaced
Backup & Recovery
. Where
Backup & Recovery
has been enabled and continues to be so for devices, the options presented here are still available.
Where Backup & Recovery options are not present on your N-sight RMM dashboard, this means you will now need to use Cove.
To start a 30-day free trial of Cove, click the app switcher in the Product bar, and select Cove Data Protection (Cove).
Network shares can be backed up with Backup & Recovery using the Backup Manager.
Open the Backup Manager
Navigate to the Backup tab
Under Available sources > Network Shares click Add
In the

Selection Network shares dialog

click Add
Specify the Path, Domain, User and Password for the share
Click Save once complete
It may be necessary to click the Network Share name to display the node structure.
The Backup Manager will then connect to the Network Share to verify the entered details and retrieve the directory listing. Make the file and folder selection and Save once complete. If problems were experienced connecting to the share click the configure button to amend the details or the delete button to remove the Network Share, confirming deletion where prompted.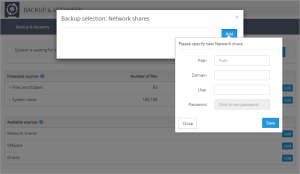 Finally, configure the Network Shares backup Schedule and amend the Backup & Recovery Check to take account of the increased backup jobs.
To amend the selected data sources open the Backup Manager:
Open the Backup Manager
Select the Backup tab
Click Edit in Backup & Recovery
Expand the node and change the selection