Configure Schedules
To offer an enhanced solution, standalone
Cove Data Protection (Cove)
has replaced
Backup & Recovery
. Where
Backup & Recovery
has been enabled and continues to be so for devices, the options presented here are still available.
Where Backup & Recovery options are not present on your N-sight RMM dashboard, this means you will now need to use Cove.
To start a 30-day free trial of Cove by clicking into the app switcher in at the top right of the N-sight RMM dashboard, and selecting Cove Data Protection (Cove).
As customer requirements change, it may become necessary to make changes to the data source (plugin) schedule, either editing an existing schedule or when adding a new data source. These settings are configured in the device's Backup Manager.
To launch the Backup Manager for a device:
On the computer
Go to Start > All Programs > Backup & Recovery > Backup Manager

Or,

Click on the desktop's Backup Manger icon (where available)
From the Dashboard
Right-click on the target device in the

North-pane

of the Dashboard (or from the Server, Workstation or Device drop-down)
Select Backup & Recovery > Open Backup Manager
Important: if you make any changes to the Schedule in the Backup Manager then the device will then have its own policy for Backup & Recovery and stops inheriting the policy from its Client or Site
Change Schedule
Navigate to the Preferencestab in the Backup Manager
Select Schedule in the left-hand menu
You can now edit the current schedule settings, or add a new schedule;

Click Add schedule (if creating a new schedule)
Provide an identifiable Name (if required)
Select Pre-backup or Post-backup scripts (if required)
Choose the Time and Days for the backup to run on
Select the Backup Data sources (for example Files and folders, Network Shares, Exchange stores etc.)

Once complete, click Save to apply
The Backup schedule refers to when the backup will run based on the local time of the computer the Agent is installed on.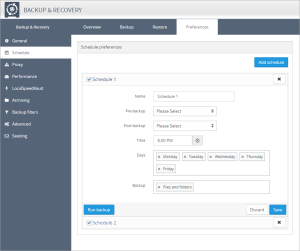 These schedule options are not available for workstations or laptops using Backup & Recovery Documents edition.