Upgrade Autotask Integration
Dashboard 2019.07.08 introduced an improved Autotask integration. This upgrade adds support for Network Devices, contains an updated Asset Mapping dialog and includes support for Sites and locations in Autotask with the ability to automatically create Clients, Sites and Devices when added in the Dashboard. With this tighter integration, PSA ticket statuses are reflected in real-time on the Dashboard and includes improved resiliency with an automated retry mechanism.
If using the original Autotask integration you will need to Upgrade PSA Integration to take advantage of this enhanced functionality, this option is only available when using the original integration.
Any Autotask integration setup after the release of Dashboard 2019.07.08 (including an integration reinstall) automatically uses the upgraded integration.
Upgrade Integration
Login to your Dashboard
Go to Settings > PSA Integration
Click Upgrade PSA Integration (only available when currently using the original integration)
Choose whether to Enable site mapping
After reading the Next Steps information in the returned Upgrade PSA Integration dialog press OK to proceed
Next Steps configuration information is available from Settings > PSA Integration > Configure and Settings > PSA Integration > Entity Mapping
On clicking on the upgrade message, the Dashboard automatically refreshes to change the PSA Integration Type and the PSA Ticket column in the Devices' Outages tab updates to show the ticket status held in Autotask, rather than the Dashboard.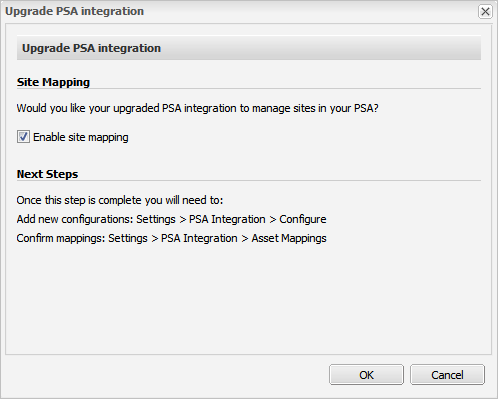 If for any reason you wish to revert to the previous integration type, please reach out to a support representative.