Private Portal Logs
The Private Portal Logs page will display a modified Log Search page. This page is pre-set to display messages with a Private Portal status of In portal or Expired over the last 1 week.
To access the Private Portal Logs, in the Admin, Domain or Email level Control Panel, select Private Portal > Private Portal Logs.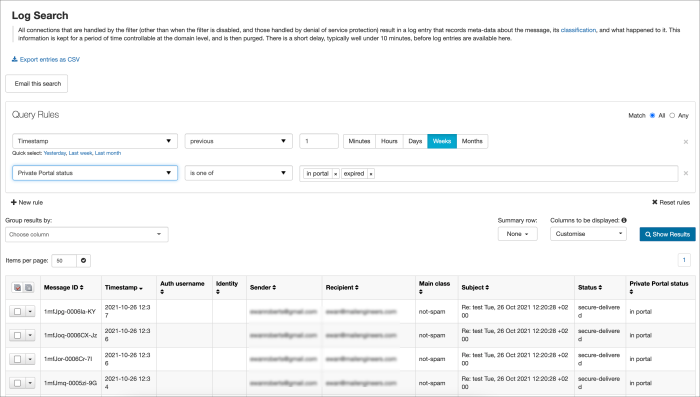 Message content can only be viewed in Log search if Archiving is enabled. To view the message content where Email Archiving is not enabled requires logging in to the Private Portal App.
Message Status
The status of messages in the Private Portal Logs can be seen by looking at the content of the Private Portal status column.
Messages in the Private Portal can have one of the following statuses:
In portal - if the message is still accessible in the Private Portal
Expired - if the message was available in the Private Portal but has since expired
Blank - if the message was not sent to the Private Portal and normal delivery was attempted
Message Actions
The actions that can be taken against a message in the Private Portal Logs are: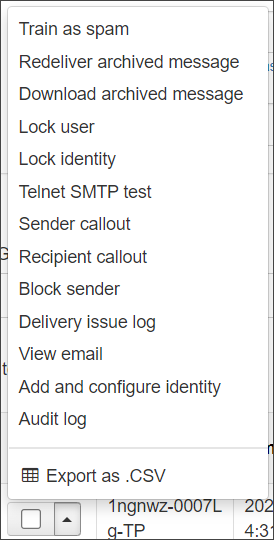 Train as spam
Redeliver archived message
Download archived message
Lock user
Lock identity
Telnet SMTP test
Sender callout
Recipient callout
Block sender
Delivery issue log
View email
Add and configure identity
Export as .CSV
To apply any of these actions to a message, click the dropdown arrow to the left of the Message ID or tick several messages at once. This action menu can then be found at the top and bottom of the message list.