Edit Device Details
You can edit the device details to add a Description, reclassify the Device Type, or change the Device Name to match its Dashboard counterpart (by default the Connected Devices section displays the Hostname*).
Right-click the target device in the Connected Devices or Connection History tab
Select Edit Device
Edit the details in the Device Details for <Device Name> dialog
Click OK
To reset the device details to the original values, even after changes are saved, click Revert to Discovered Values, which is available when changes have been made.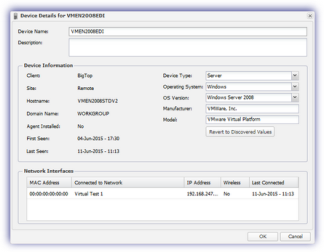 * Network Discovery shows the device hostname on the Dashboard rather than the Monitoring and Management device name that may have been set when the Monitoring Agent was installed in server mode.

To ensure the Network Device name matches its Monitoring and Management counterpart, edit the Network Device Name in the Edit Device dialog. This only changes the name displayed in the Connected Devices panel.
Editable Fields
Field
Options
Device Name
You can replace the text
Description
You can enter text
Device Type

| | | | | | | | |
| --- | --- | --- | --- | --- | --- | --- | --- |
| Unknown Device Type | | Laptop | | Workstation | | Server | |
| Printer | | Phone | | Tablet | | NAS/SAN | |
| Wired Router | | Wireless Router | | Firewall | | Switch | |
| Set Top Box | | Gaming System | | Virtual Machine | | Home/Office Automation | |
| Wireless Access Point | | UPS | | IP Camera | | Network Video Recorder | |

Operating System

| | | | | | | | |
| --- | --- | --- | --- | --- | --- | --- | --- |
| Unknown OS | | Windows | | Linux/UNIX | | <![CDATA[ ]]>OSX | |
| iOS | | Android | | Cisco IOS | | Other OS | |

OS Version

Unknown Version

Unknown Version

Other

Windows

Unknown Version

Windows Vista

Windows Server 2008

Windows Server 2008 R2

Windows 7

Windows Server 2012

Windows 8

Windows Server 2012 R2

Windows 8.1

Windows NT 3.5.1

Windows NT 3.1

Windows NT 3.5

Windows NT 4

Windows 10

Windows Server 2016

Windows Home Server 2011

Windows Small Business Server 2011

Microsoft Hyper-V Server

Windows Embedded

Windows CE

Windows Multipoint Server 2011

Windows 2000 Server

Windows Small Business Server 2003

Windows Phone

Other

Linux/UNIX

Unknown Version

Ubuntu Linux

Debian Linux

Mint Linux

Fedora Linux

CentOS Linux

FreeBSD

OpenSUSE Linux

Solaris SunOS

RedHat Linux

Other
 

OSX

Unknown Version

OSX Cheetah

OSX Puma

OSX Jaguar

OSX Panther

OSX Tiger

OSX X Leopard

OSX Snow Leopard

OSX Lion

OSX Mountain Lion

OSX X Mavericks

OSX Yosemite

OSX El Capitan

OSX Sierra

Other

 

iOS

Unknown Version

Other

Android

Unknown Version

Other

Cisco IOS

Unknown Version

Other

Other OS

Unknown Version

Other
Non-Editable Fields
Device Information
Client
Site
Hostname
Domain Name
Agent Installed (Discovery Agent)
Network Agent Version
First Seen
Last Seen
Network Interface
MAC Address
Connect to Network
IP Address
Wireless
Is Discovery Agent
Last Connected