Device Name, Password and Encryption Key
The Device Name, Password and Encryption Key is required when recovering the source system data to the target computer.
To display the Encryption Key:
Right-click on the target device in the

North-pane

of the dashboard (or from the Server, Workstation or Device drop-down)
Go to the Edit > Edit <device type>
Navigate to the Backup & Recovery section
Click Request Encryption Key

When prompted, enter the password of the account you have logged into the Dashboard under to confirm
The Backup Account Info dialog opens to display the Encryption Key along with the Status, Device Name (unique identifier) and Password for the selected storage account.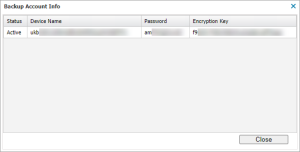 What do you want to do?