Recovery Console
To offer an enhanced solution, standalone
Cove Data Protection (Cove)
has replaced
Backup & Recovery
. Where
Backup & Recovery
has been enabled and continues to be so for devices, the options presented here are still available.
Where Backup & Recovery options are not present on your N-sight RMM dashboard, this means you will now need to use Cove.
To start a 30-day free trial of Cove by clicking into the app switcher in at the top right of the N-sight RMM dashboard, and selecting Cove Data Protection (Cove).
The Recovery Console may be used to recover data from multiple devices simultaneously.
Visit the main Recovery Console section for information on installing the Recovery Console and adding devices.
Start the Recovery Console,
Select the source machine in the Devices window
Click the Configure button, or right-click the device and select Configure
Select Virtual disaster recovery from the returned list of Data sources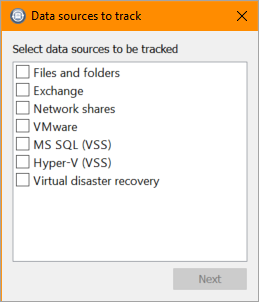 Choose the type of virtual machine to recover the system to from the Restore Target list

Enter the remaining required information for the virtual machine
Click OK once complete to save
The Configuration completed message appears where all the settings were successful entered. This contains the option to activate data recovery for the device right now. Click Yes to continue or No to add the device without recovering data (this may be done later by using the Active checkbox against the device in the Recovery Console)