Scans (Quick, Full, Custom)
To manually run a MAV-BD scan on the computer, or create your own bespoke custom scan, select one of the three options:
Quick scan
A lightweight scan that (by default) scans running process in the drive for threats. Running a Quick Scan usually takes less than a minute and uses a fraction of the system resources needed by a regular virus scan.
Full scan
Scans the entire computer for all types of malware threats. As it scans the entire computer, the Deep Scan can take a while to complete. We recommend running Deep Scans when the computer is not in use.
Rather than scan the entire computer for malware threats, or only scan the running processes, you can select the locations to scan and configure the scan settings to precisely match your requirements. Click the Custom Scan button to configure then run a scan.
Where a scan discovers malware or rootkits, Bitdefender automatically begins the disinfection process. If disinfection is not possible, Bitdefender moves the files to the quarantine where it cannot do any harm.
The scan window displays the scan progress, with the option to Cancel.
The results appear in the window once the scan completes.
Click View Log for information on the discovered threats and action taken.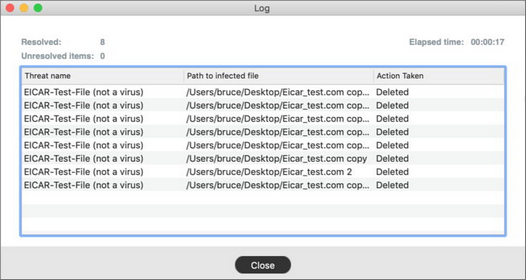 Option: Don't scan Time Machine disk
As you cannot remove infected backup content directly from Time Machine, it is safe to exclude these backups from scans.
When restoring Time Machine backups that include infected files, MAV-BD detects the threat then performs the required remediation action.
By default, MAV-BD does not scan Time Machine backups.
For those situations when scanning Time Machine is required:
Click the View history button at the bottom right corner of the main window
Select Scanner and disable Don't scan Time Machine disk.
What do you want to do?