Backup & Recovery Status Notifications
To offer an enhanced solution, standalone
Cove Data Protection (Cove)
has replaced
Backup & Recovery
. Where
Backup & Recovery
has been enabled and continues to be so for devices, the options presented here are still available.
Where Backup & Recovery options are not present on your N-sight RMM dashboard, this means you will now need to use Cove.
To start a 30-day free trial of Cove, click the app switcher in the Product bar, and select Cove Data Protection (Cove).
In addition to the Dashboard based Backup & Recovery Checks and Reports, we have included the option to send a daily or weekly backup status email for specific devices. Configured through the device's Backup Manager, these notification provides an at a glance view of its backup status and can be sent to any specified recipients, including end customers.
Please note that the option to configure status notifications is not available for workstations or laptops using Backup & Recovery Documents.
To launch the Backup Manager for a device:
On the computer
Go to Start > All Programs > Backup & Recovery > Backup Manager

Or,

Click on the desktop's Backup Manger icon (where available)
From the Dashboard
Right-click on the target device in the

North-pane

of the Dashboard (or from the Server, Workstation or Device drop-down)
Select Backup & Recovery > Open Backup Manager
Configure Notifications
Navigate to Preferences in the Backup Manager
Select General in the left-hand menu
In the Backup dashboard settings section, enter one or more email addresses (divided by semi-colon)in the Send To field

email1@domain.com;email2@domain.com

Select the Frequency of the notification using the drop-down menu, select from:

Daily
Every Wednesday and Saturday
Saturday
Never

Save to apply
The language used in the email is based on the Language Settings set in the General backup preferences section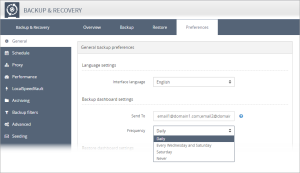 Once configured, the recipients will receive the Backup Status email between 08:00 and 12:00 on the selected days. This notification provides a detailed overview including
the selected size
the date of the last successful backup and its status
the status of the LocalSpeedVault and the Remote Server (where enabled for that device)
To ensure the overall status may be checked at a glance, we have used the following color coding:
| Color | Description |
| --- | --- |
| Green | Completed successfully |
| Yellow | In progress |
| Amber | Completed with errors |
| Red | Failed, Aborted, Interrupted, Not started, Over quota |
| Grey | Unknown result |
Notification From Email Address
Please be aware that the notification email will come from: donotreply@backup.management
To avoid any potential spam filtering issues and to ensure these notifications are successfully received we recommend adding this domain to any Allow-lists
Example Success Notification: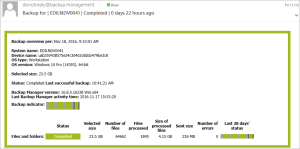 Example Failure Notification: