Site Familiarization
Once you have activated your account, you will be logged directly into the site. Take a few minutes to acquaint yourself with the various areas.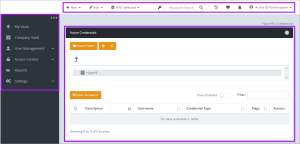 Top Toolbar
Full details of the Top Toolbar are available at Quick Access and Notification Toolbar
Main Menu
My Vault: Where you store your personal credentials and passwords. No one else has access to this area.
Company Vault: Any passwords added for the company to be shared are found here.
User Management: Add, Disable, and Manage all users.
Access Control: Manage who can access what, and what they can do.
Reports: Various reports on usage and status of passwords.
Settings: Configure two-factor authentication and other options.
Folders and Passwords
Folders and Passwords are created and accessed in these areas, please see Create Folders and Passwords for details.