Managing private storage
The primary tools for managing private storage, including Storage Reporting to view storage statistics, selecting the partnership model for customers and selecting the storage pool for the device.
Tool
Tasks performed
Storage Node Installer

Installing storage nodes
Reconfiguring storage nodes

Backup & Recovery Console

Getting statistics for storage nodes (used size, total size, reserved size, number of devices)
Selecting a partnership model for customers
Selecting a storage pool for devices

Cloud Management Console (legacy)

Changing storage node states (Online/Offline and Operable/Out of service)
Checking which storage pool a backup device is assigned to

Third-party monitoring systems (Nagios, Zabbix, etc.)
Checking HTTPS port availability and the amount of free space left on a storage node. Learn more.
Selecting partnership model for customers
By default, your customers use the same storage that is available to your company. You can set a partnership model for each of your customers individually:
Log in to the

Management Console

under a SuperUser account
In the Management section of the vertical menu, click

Customer

s to open the

Customer

Management window
Find the

customer

from the list
Either click the three vertical dots from the

Customer

s list on the left-hand pane or scroll to the right and click the three vertical dots to open the Action menu

Click Edit

customer

Choose an appropriate value from the Service type list ("Software-only" or "All-inclusive")
The changes will take effect within the next 30 minutes.
Selecting storage pool for device
When you add a new backup device, you can select a storage pool for it. Choose Any if you want the device to use all storage pools available to the customer.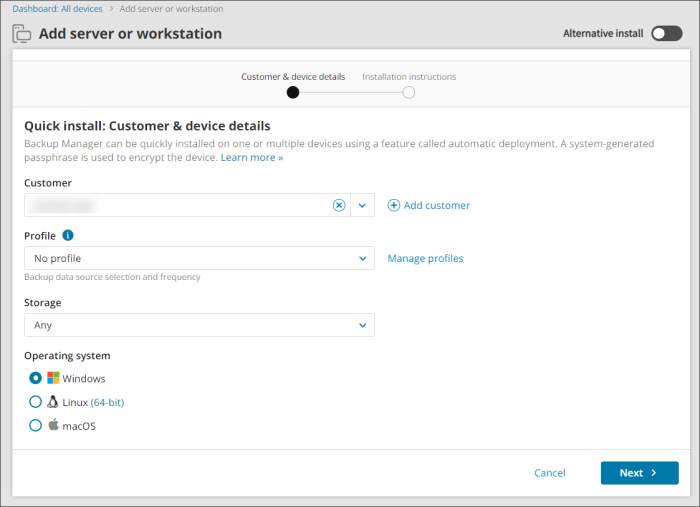 To find out which storage pool an existing device is assigned to, use the Cloud Management Console.
Right-click the device and choose Statistics from the context menu
Click Show storage nodes