Documents

guide

Documents is a purpose-built data protection solution for Windows and macOS workstations and laptops. It provides highly automated data protection of key office files (every Word doc, spreadsheet, presentation, text file, .pdf, .csv) at a price point similar to antivirus software.
Installation is done in a click
Backups run twice a day without user interference
All backup settings are predefined and cannot be changed
Users can recover selected files and folders at any time
There is no limit to the size of files that can be backed up.
How it works
There is just one data source for backup and recovery – Files & Folders (not named explicitly in the user interface). All local drives on the device are scanned for eligible files which are detected automatically by the system (see the full list of supported file types here and the list of exclusions here). The Documents backups start right after the installation and are repeated twice a day:
At night between 9 pm and 6 am
At lunchtime between 12 noon and 2 pm
No backup settings are available; the Preferences module is hidden. Also it is not possible to change the backup settings through remote commands.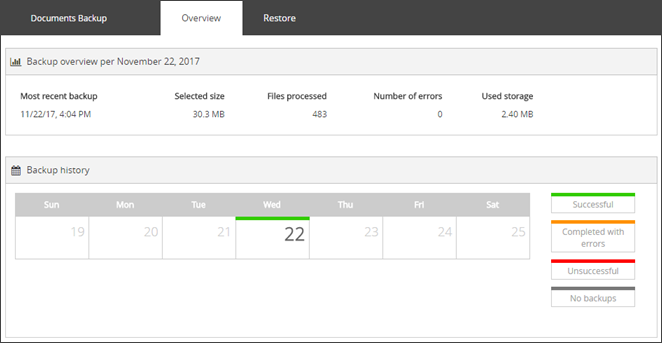 Documents devices are not associated with any email addresses. Therefore it is not possible to set up the delivery of email dashboards on the statuses of recent backup and recovery activities for these devices.
Requirements
Documents is available to the following types of customers: resellers and end-customers. A SuperUser account is required to activate the installation. Please request assistance from your service provider if your access permissions are insufficient

This must be enabled by ticking Automatic deployment on Windows in the Customers > Edit Customer screen

If the system has Microsoft OneDrive installed, the Files On-Demand feature must be disabled. When the feature is on, the contents of the directory are not physically available on the hard drive. This makes them inaccessible for backup. Learn more
Limitations
Documents

is for the client versions of Windows and macOS only. If the installation is performed on a Linux machine or a Windows server, it will not be functional (backups will be blocked)
It is not possible to change a regular

Backup Manager

installation to

Documents
Upgrading options
For more options and flexibility, you can upgrade any Documents device to the standard version.
Click the gear icon next to the device you want to upgrade (the action menu will open)
Select Switch to WorkstationPro

Choose a new profile for the device and click to apply the changes
Another way to upgrade a device is by changing its product selection.
Click on the device name to open its properties
Go to the Settings tab and then change the product selection
A standard Backup Manager device cannot be downgraded to Documents.
If the device is turned off, the backup cannot run. It will run when the device has been turned back on.