Start and monitor support sessions
Use the Sessions section of the Admin Area to view a list of active and pending support sessions. From this page you can view active technicians or departments, start a new session, view incoming or in progress sessions or transfer a session to another technician.
View the details of the support request, including the customer and device name, a description of the issue and how long a customer has been waiting, or the duration of an in-progress session. Technicians can join an existing session or transfer in-progress sessions to another department or technician.
Click Filters to sort the session list according to the sessions' status, technician or department.
Click Create session to generate a PIN code and start a support session.
View Active and Pending sessions and click any session from the list to view additional information in the Details tab below the Session List.
After selecting a session from the Session List, click Start Session or Reject Session if the support session is in a Waiting status, or choose Join Session to join the in-progress support session.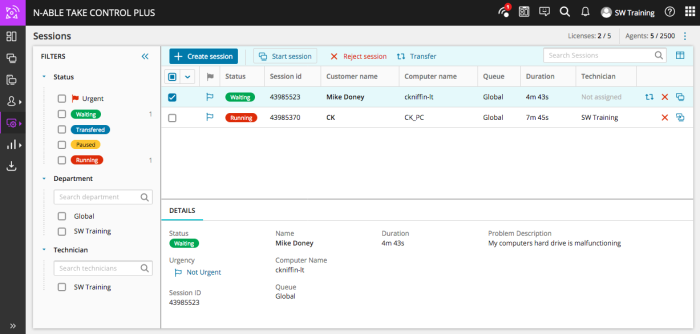 What do you want to do?