Manage Your Admin User Profile
The User's Profile page allows you to manage your Admin user's profile settings. You can access this from the Admin Level Control Panel, by selecting My Settings > User's profile.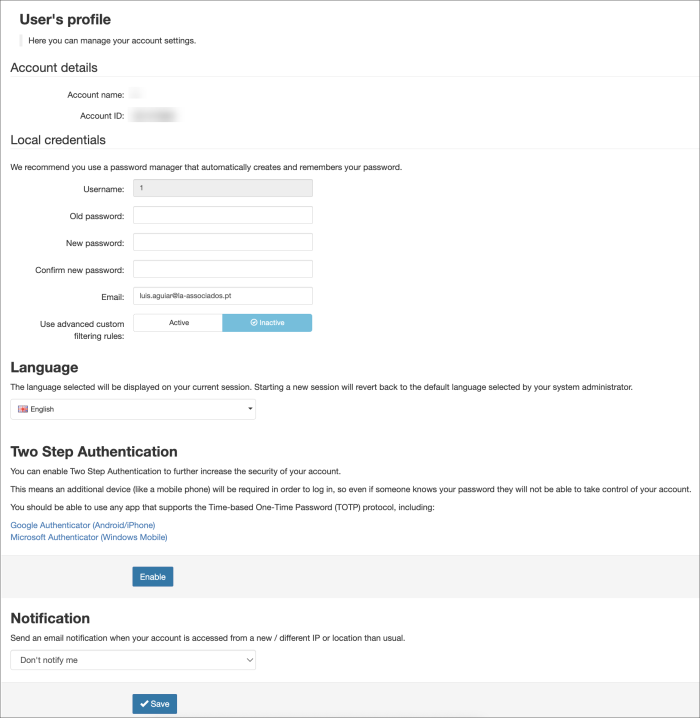 The following features are available:
Local credentials
Username - The user name currently logged in
Old Password - The current password for the account. If you have saved the password to your browser, this will be filled in, but hashed out
New Password / Confirm New Password - Change the password for the account using these fields. You must fill in the Old Password field in order to do this
Email - Change the account notification email address using this field, enter the email address you wish to receive notification emails
Use advanced custom filtering rules- By activating the 'Use advanced custom filtering rules' option you access the advanced filter page when creating a new custom

Allow list

or

Block list

filtering rules

If this setting is Inactive the simple page is displayed. For more information, see Simple Allow list Filtering Rule and Simple Block list Filtering Rule.
Be sure to Save any changes you make.
Language
Select the language you want to see in the current session. Starting a new session will revert back to the default language selected by your system administrator.
There are 19 languages to choose from:
English
Danish
German
Greek
English (US)
Spanish
Finnish
French
Hungarian
Italian
Japanese
Norwegian
Dutch
Polish
Portuguese
Portuguese (Brazil)
Russian
Swedish
Turkish
Two Step Authentication
Enable Two Step Authentication to increase further security of your account.
Adding Two Step Authentication means an additional device (commonly a mobile phone or app for your computer) will be required to provide a code in order to log in. This means that even if someone knows your password, they will not be able to take control of your account.
Any app that supports Time-Based One-Time Password (TOTP) protocol.
Notification
Enable email notifications when your account is accessed from a new location or IP address.
From the Admin Level Control Panel, select My Settings > User profile and choose from:
Don't notify me
Notify me when my account is accessed from a new location
Notify me when my account is accessed from a new IP address