Modification Report
The Modification Report lists all devices where hardware or software changes were detected during the selected period.
On the Asset Tracking Dashboard, go to Reports > Modification Report
Select All Clients or a specific Client

Select a Start Date and End Date for the report
Select the method of report generation.
View the report in real-time, which may take several minutes to complete depending on the selection size
Download to run the report in the Background. When the report is ready, you receive a notification email with a download link to view the report.
The Report lists each device where a change was detected and for each section (Property, Hardware and Software) the asset name, Old Value, New Value and Modification Date to help identify how the asset changed and when.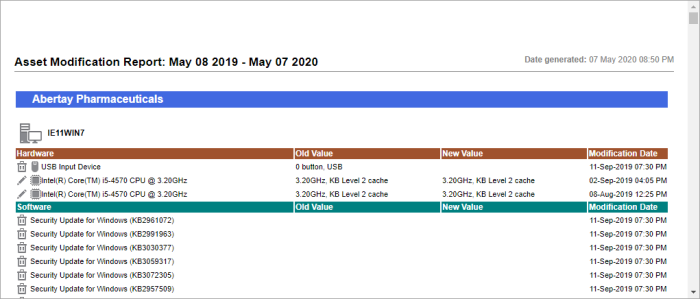 | Icon | Description |
| --- | --- |
| | New asset added to the device |
| | Change made. For example, software updated to a new version or additional memory added. |
| | Asset removed from the device. For example, software uninstalled. |