Network Adapter is Invalid
To offer an enhanced solution, standalone
Cove Data Protection (Cove)
has replaced
Backup & Recovery
. Where
Backup & Recovery
has been enabled and continues to be so for devices, the options presented here are still available.
Where Backup & Recovery options are not present on your N-sight RMM dashboard, this means you will now need to use Cove.
To start a 30-day free trial of Cove, click the app switcher in the Product bar, and select Cove Data Protection (Cove).
Depending on the settings of the restored Virtual Machine the error message The system cannot find the path specified. The switch port connection for "Network Adapter" is invalid may be displayed when trying to start the newly restored Virtual Machine.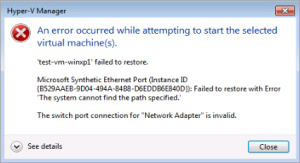 To resolve this issue it is necessary to change the Network Adapter settings for the virtual machine and this can be achieved in the Hyper-V Manager:
Select the required Virtual Machine
Go to Settings
Under Hardware change the Network Adapter to a valid connection from the Network: drop-down