Asset Tracking Dashboard
From the main Monitoring and Management Dashboard, to view the Asset Tracking Dashboard you can:
Go to View > Asset Tracking
Click Asset Tracking in the Left Side Navigation Bar
Click View in Asset Tracking from the Hardware or Software sections in the Device's south pane Assets tab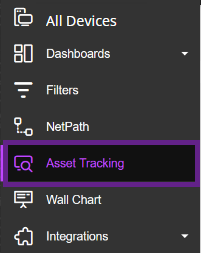 The Asset Tracking section is only available after asset information is returned from at least one device. To display the Asset Tracking section when data is uploaded for the first time, you may need to refresh your browser.
Asset Tracking Dashboard Layout
If a Client, Site or Device is selected in the Monitoring and Management Dashboard, the Asset Tracking Dashboard opens focused on the item selected. If no Client, Site or Device is selected, then information on the first Client (based on alphabetic or alphanumeric name) is displayed.
The Asset Tracking Dashboard has three sections:
Left Menu—Select the Client and Site, then the asset type (Computers, Software, BIOS...) to display in the north pane
North pane—Displays overview information based on the left menu selection
South Pane—If a computer option is selected in the left pane, the south pane displays information for the highlighted device in the north pane
Asset Tracking reports asset information from Windows. Linux and Mac computers running the relevant Monitoring Agent. Other Network Devices is a legacy setting that cannot be automatically or manually populated.
Intel Blade servers incorrectly report as laptops.

To ensure the device is assigned to the appropriate category in Asset Tracking, the Agent runs a WMI query to determine the chassis type. We have observed that some models of Intel Blade server inaccurately report the chassis type as portable leading to their incorrect designation as Laptops in Asset Tracking.