Familiarize yourself with
Site
Once you have activated your account, you will be logged directly into the site. Take a few minutes to acquaint yourself with the various areas.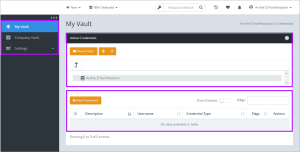 Main Menu
My Vault: Where you store your personal credentials and passwords. No one else has access to this area but the logged in user.
Company Vault: Any passwords added for the company to be shared are found here.
Settings: Configure two-factor authentication (2FA) and other options.
Top Toolbar
Folders
Folders can be created in your My Vault area to help better manage and organize passwords.
Passwords
Whether you are in My Vault or the Company Vault, this is where your passwords will be listed for viewing and editing