Templates for one-time notifications in Cloud Management Console
The content of email notifications in the Cloud Management Console is based on templates.
Here is how to manage the templates:
Log in to the Cloud Management Console using a SuperUser account
On the Partners pane, click the customer whose email templates you want to access
Go to Manage > Manage notification templates

There is a set of predefined templates to choose from. You can fine-tune these templates (Edit) or create new ones from scratch (Add). They can be formatted as HTML or pure text. An extensive set of variables is supported.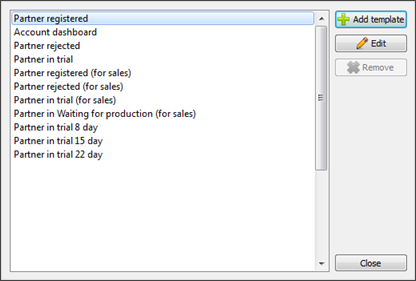 You can delete unneeded templates created by your company and your customers (Remove). This is possible if there any no notification rules involving the template.
Variables supported by templates
You can insert variables to the Subject field and to the body of your messages.
HTML file headers do not support variables.