Updated: May 5, 2020
Patch on demand
Patch on demand is a way to install patches on a device outside the scheduled patching maintenance windows. It provides the ability to schedule a one-time, non-recurring patch installation of outstanding approved patches to update outlying systems that are not reliably available, or for new devices added to the network. This enables you to update a new device so that it meets system requirements for compatibility and security on a customer's network, without waiting for the next patch maintenance window.
N-able N-central prompts devices to initiate patching at the scheduled time. If the device is unavailable, N-able N-central continues to prompt the device until the maintenance window duration expires after 24 hours.
During the installation, the user may see a notification in their system tray that updates are occurring. This is controlled by the Show Messages to Users option in the patch profile.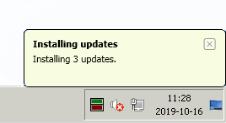 To use patch on demand, ensure at a minimum, the role permissions are:
Patch: Patch Configuration set to Manage.
Network Devices: Edit Device Settings set to Manage.
If problems are detected by the system, such as devices are not able to accept a patch on demand request, a warning appears in the maintenance window.
Click

Views

>

All Devices

and select one or more devices.
Click

Add Task

>

Patch Management

>

Patch On Deman

.
Enter a name for the task.
Set the

Patch on Demand Schedule

to either

Now

or once and set the date.
Configure the remaining patching options.

When configuring the Reboot Options, ensure that Reboot After Install is also selected.

Click

Save

.
At the configured time, the agent downloads and installs the required patches onto the device. Use the audit trail through Take Control, to monitor the progress and outcome of the patch on demand request.
To track the status of the patch-on-demand task, click the device then the Settings tab > Maintenance Windows tab.