Set the default agent and probe settings
You can configure default behavior for probes and agents. Set the defaults for software upgrades, security credentials, agent registration token lifespan, and proxy settings for installation (used when performing administrative tasks such as running scripts and distributing third-party software).
The FQDN field is a locked field (for reference only). It shows the FQDN value set in the Network Setup settings and it is pre-pended to the Server Address list as one of the possible addresses to connect to. The Server Address list is fully editable, including the pre-pended entry. The FQDN setting is propagated to all levels (System, Service Organization, Customer, Site, and Device).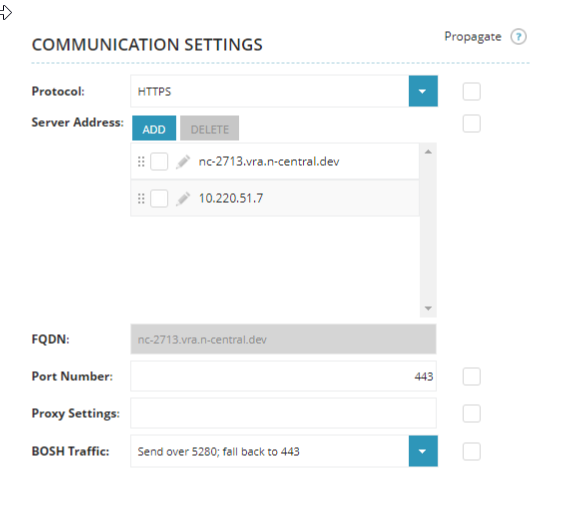 Default settings for individual Customers or Sites can be configured when they are first created using the Customer Wizard or the Site Wizard.
We do NOT support the use of commas in usernames and passwords.
Click

Administration

> 

Defaults

>

Agent & Probe Settings

.
Click through each tab and configure the required options. For additional information, click the question mark icon for each section.
Select

Propagate

to distribute the defined credentials to the managed devices.

If you do not select the Propagate check box, the new default settings will only apply when installing new probes and agents.

Click

Save

.
Agents and probes update their configurations with the new settings selected. As new agents are installed, or a new probe installed, these defaults are used.