Configure Journaling in
Spam Experts

/Exchange

To set up journaling in Spam Experts/Exchange you need to:
Find Global Journal Address
You can find the global journal address in Spam Experts.
Login to

Spam Experts

as an Admin Level user or as a Domain Level user

If you log in as an admin user, go to General > Domains Overview and click on the domain you want to enable archiving for. The Domain Level Control Panel is now displayed.

Click on Archiving > Status > Enable to enable incoming and outgoing archiving for all users on the domain
If required, navigate to Archive > Archived recipients to restrict the users whose mail will be archived
Make a note of the global journaling address if you want to enable journaling
If the address ends with '@MX-record-hostname' please use @.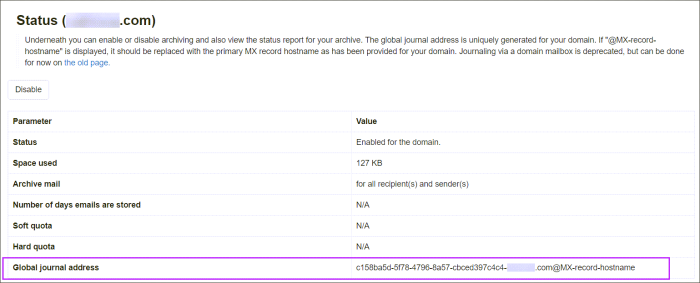 Configure Journaling in Microsoft Exchange 2010
Open Exchange Management Console (EMC)
Navigate to Organization Configuration > Hub Transport > Journal Rules
Right click and select New Journal Rule
Enter the global journal address in Send Journal reports to e-mail address
Select Internal for the scope
Select Journal messages for recipient and select the Dynamic Distribution Group for this domain
Configure Journaling in Exchange 2013/2016/2019
Log into the Exchange Admin Center (EMC)
Go to Compliance Management > Journal rules
Enter a valid email address to receive journal failure alerts
Click on the + (plus sign) and create the journal rule as follows:
Send journal reports to: Enter the global journal address noted from the Archive > Status page (above)
Name: Give the rule a meaningful name
If the message is sent to or received from: Choose [Apply to all messages]
Journal the following messages:

Select Internal messages only if the domain uses incoming/outgoing filtering
Select All messages if the domain is archive-only
Configure Journaling in Exchange Online (
Microsoft 365

)
Login to the Microsoft Purview portal
Navigate to Solutions > Data lifecycle management in the left-hand menu and select Exchange (legacy)

If you have not set an alternative journaling mailbox (for messages which fail to journal), click the link to the Settings page in the warning at the top of the Journal Rules page. Enter a non-Exchange online address to deliver NDRs to.

In

Spam Experts

, go to the Domain with archiving enabled via Domains Overview
Navigate to Archiving in the menu and open the Status page
In Microsoft's Journal Rules page, click + New Rule
Enter the following credentials:

Send journal reports to - enter the Global Journal address from step #6
Journal rule name - Give the rule a recognizable name such as '

Spam Experts

Journaling'
Journal messages sent or received from - Select who to journal messages from:

Everyone
A specific user or group

Type of messages to journal - Select the direction of messages to journal:

All messages
Internal messages only
External messages only

If using Spam Experts filtering, you should select Internal messages only, if you do not use filtering, select All messages.

Click Next
Review the journal rule and click Submit

The new Journal rule will now be displayed on the list