Manage
Technicians
The Manage Technicians page allows you to configure multiple user/password credentials so they can all log in at the same admin level. For example, if you have three users that manage the same set of domains, you can create a Technician for each of them, rather than sharing the same set of admin credentials (not recommended) among the three.
When a Technician is used to log in, the user has the same access and permissions as the primary admin. You can see the name of the main admin in the panel at the top of the page and actions taken by the user will be logged against the Technician for auditing purposes.
As the logged in Admin user, any Technicians you have created are listed on the Manage Technicians page. You will also see the Technicians for sub-admins of this level.
The dropdown along side each Technician user provides the following options:
Enable SSO for
Technicians
In order for a Technician to use SSO, OAuth must be configured at the Admin or parent Admin level.
There are two methods that can be used to enable SSO for a Technician user.
The first is by selecting Trigger SSO Invitation from the dropdown on the Manage Technicians page: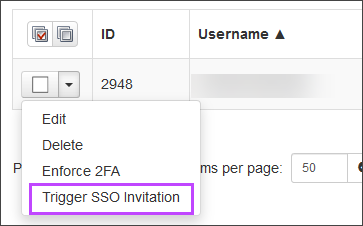 The second is by following the below steps:
Click the dropdown to the left of the

Technician

user
Select Edit
Within the Local Credentials section, you will find a section for Login with Parent_Admin_SSO
Select Link Account

This will send an SSO invitation email to the account notification email address.

Follow the link in the email received to link the

Spam Experts

account to the Parent Admin's Single Sign-On.

Once the user has successfully linked their account, this section will change to show - Linked - with an option to Unlink account

Once the account is created, it will take you straight to the

Spam Experts

dashboard