Logging in to
Spam Experts
Access Spam Experts using the URL and credentials you have been provided.
Logging In
On the appropriate Login page for your user type, enter your credentials:
Super-admin (
Spam Experts

Local Cloud only)

A Super-Admin user has full access to the Local Cloud, including all configured domains, users, and to settings that apply to the entire Local Cloud, and to the Control Panel API. One Super-Admin user will have been provided by your N-able Account Manager, and you can create more as required; all super-admins have the same full access to the Local Cloud. A super-admin user may view and change settings and logs for any admin, domain, or mailbox. We strongly recommend that you limit the IP addresses from which super-admin users may log in, and require 2FA for all super-admin users.

Information on adding Super-Admin users can be found in Add a Super-Admin User
Admin
Sub-Admin
A Sub-Admin user is simply an Admin user that belongs to a higher level ("parent") Admin.
Technician
Domain
Email
If you are unsure what user level you are logged in as, you can find this by checking in the upper left hand corner of the screen. Here you will see the username with which you are logged in and the user level.


Forgotten Passwords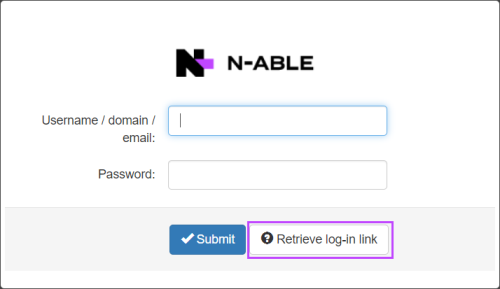 Too many failed login attempts will cause the account to be locked to prevent abuse. To recover the account, you must reset the password or contact your administrator.
Control Panel
Once you are logged in, you are presented with the application Control Panel. There are three different Control Panel views in Spam Experts and the one you see (and what it contains) depends on your user level and the access permissions for this level.
The following Control Panel levels are available:
Admin Level Control Panel - Available to Admin, Sub-Admin and

Technician

users.
Domain Level Control Panel - Available to Domain users and also Admin, Sub-Admin and

Technician

users with the correct permissions.
Email Level Control Panel - Available to Email users and also Admin, Sub-Admin,

Technician

and Domain users with the correct permissions.
Some features are available only to certain Control Panel levels, but some are shared among different Control Panel levels.
For an overview of the Spam Experts interface, see Application Overview.
Timeout Settings
The inactivity timeout is currently set at 5 minutes and is the same for all users. This is not configurable.
Supported Web Browsers
Google Chrome
Mozilla Firefox
Microsoft Edge
Apple Safari
We do not support Microsoft Edge (legacy) or Internet Explorer, and use of these older browsers may lead to issues with the application. To avoid these potential problems we recommend using a modern and supported web browser.