Custom HTML
The Custom HTML feature is available at the Super-Admin level but can be enabled for users at the Admin level by the Super-Admin. Any users logged in below this level will not see this feature.
Using the Custom HTML feature allows you to add additional functionality, such as a live chat feature, analytics integration or other customer support widgets to the Spam Panel.
Do not use this feature if you are not familiar and comfortable with HTML. Using this feature with incorrect code can cause problems within the spam panel which may stop the page from loading, among other things.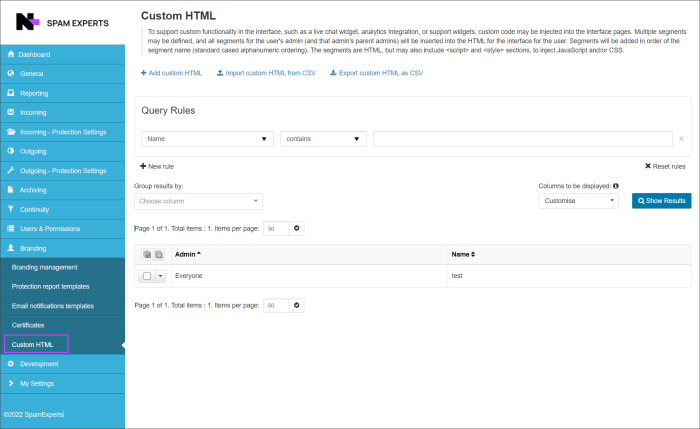 View and Edit Existing HTML's
In the Super-Admin Level control panel, select Branding > Custom HTML. In here you will see a search page similar to the Incoming Log Search, where you can view a list of HTML's already added by clicking the Show results button.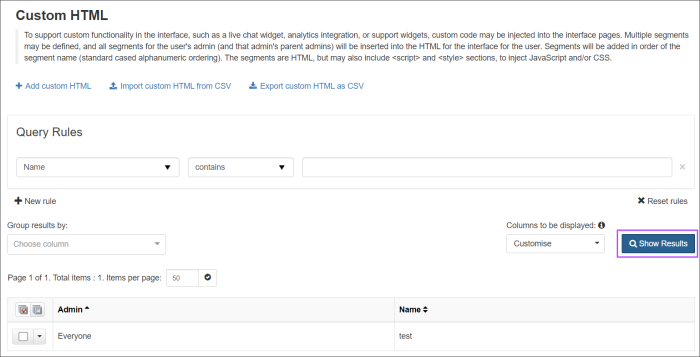 Clicking on the downward arrow to the left of the entry will give you a menu with the following options: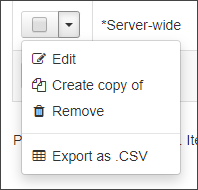 Edit - opens the Edit Custom HTML panel which gives the same options as the Add function
Create copy of - opens the Copy custom HTML panel which gives the same options as the Add function
Remove - opens a confirmation box to advise that you are going to delete the selected custom HTML(s)
Export as .CSV - creates a .CSV file containing the custom HTML and downloads it to your device
Add Custom HTML
To add a custom HTML you have two options:
Add custom HTML (recommended) - allows you to manually add the custom HTML

Admin - Select or type the Admin user that you wish to apply this feature to. If all, select Everyone
Name - Name the HTML something relevant such as "SupportChat" so that you can easily identify each HTML
HTML body - In here, carefully write the HTML you wish to apply. This may include style selections and scripts where necessary
Admin only - Select Yes or No for whether to include this HTML for the current admin only

Import Custom HTML from CSV