Start Time and Distance Tracking on a Site Visit
In the Site Visit schedule open the relevant site visit.
Tap on the stopwatch icon in the top navigation bar to start/finish a new time or distance entry.
The Tracking page is displayed.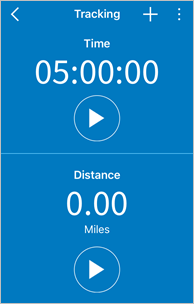 You can choose to track your time or your distance travelled (the app calculates the distance you travel between starting and stopping the tracker).
To start tracking, tap on start
(the app calculates the time and distance travelled until you stop tracking).
To stop tracking, tap on pause
then tick
to save the entry (you can also re-start tracking here if you need to).
Tip - The top right menu in this page contains the Tracking style option which allows you to choose which tracking features you want to see on this page (time, distance or both).