Insights Tab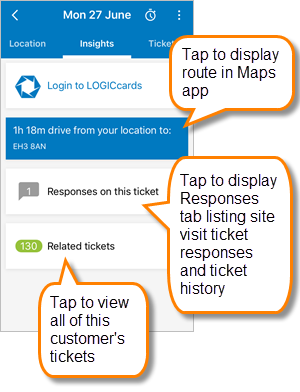 The Site Visits - Insights tab allows you to:
Login to LOGICcards - (only available to Remote Management & Monitoring linked users). Use your

Remote Management & Monitoring

login credentials to log in and view your LOGICcards alerts and notifications. This includes new ticket and site visit notifications. Tap on Login to LOGICcards to access.
View the drive time to the site visit location from your current location - Tap to open Maps app for route and directions
View/add ticket responses and view ticket history (if enabled in Settings) - Tap on Responses on this ticket
View related tickets - Tap on Related tickets to access the Customer - Tickets section of the app to view this customer's tickets. See Ticket Tab.