Settings
Configure Service Desk mobile settings, including the type of map you want to use, so that you can find locations quickly and easily.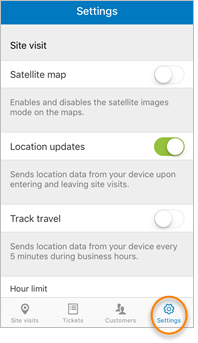 The page is divided into the following sections: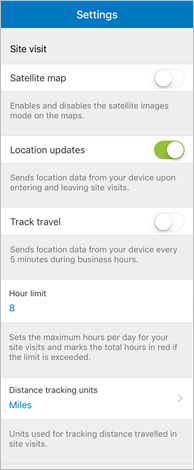 Satellite map - Choose if you want the map to display as a satellite instead of street map
Location updates - Sends location data from the device when entering or leaving a site
Track travel - Sends location data from your device approximately every 5 mins during business hours
Hour limit - Engineers can set the maximum hours for site visits per day. When the limit is exceeded, the total hours is shown in red
Distance tracking units - Choose from miles or kilometres
Tickets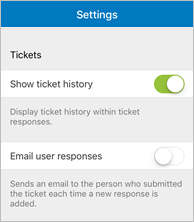 Show ticket history - Displays the ticket history in the Responses tab in Tickets and Site Visits
Email user responses - Sends an email to the person who submitted the ticket each time a new response is added
Startup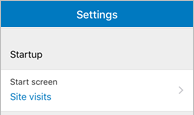 Start screen - Choose which page is displayed on startup: Site visits, Tickets or Customers - or select Last viewed to see the last page accessed before sign out
Help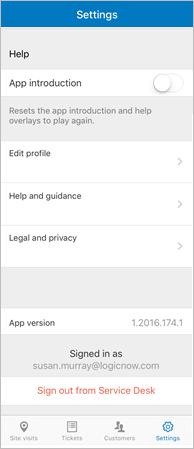 App introduction - Choose if you want to see the app introduction pages each time you log in
Help and guidance - Opens the Online Help in your browser
Legal and privacy - Opens N-able pages with Legal and privacy notices
and...
App version - The current app version
Signed in as - The signed in user
Sign out from

Service Desk

- Sign out of the app and back to the Sign in page