View Customer Details
In the Customers page, tap on the customer whose details you want to view. The customer's details page opens displaying the default DETAILS tab: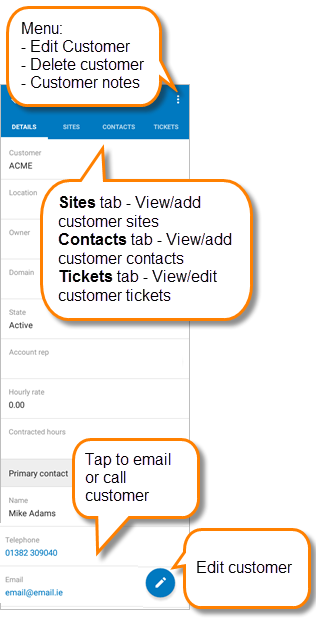 At the top of each of the tabs, the menu contains the following:
Edit customer
Delete customer
Customer notes
The following information is displayed in the DETAILS tab:
Customer - Customer name
Location - System uses the address of primary contact
Owner - Select from customer users
Domain - The customer's email domain(s). If you want to add multiple domains, separate each domain with a comma e.g. mydomain.com, myotherdomain.com
State - For example, Prospect, Active etc.
Account rep - The customer's account manager
Hourly rate - Applied to work done for this customer (if this applies)
Contracted hours - The amount of contract hours the customer can use
Primary contact details - Name, telephone and email address of primary contact. Use the links to contact the customer directly by phone or email (only available if the contact information has been added in the Contacts Tab).
To edit a customer details, tap on the edit icon
. See Edit Customer Details.
For details of the Sites, Contacts and Tickets tabs see:
Sites Tab - Lists all sites recorded for the customer - you can add sites here too
Contacts Tab - Lists customer contacts and allows you to add and edit as required
Tickets Tab - View tickets raised for this customer and access ticket details directly
Use the links at the bottom of the page to contact the customer directly by phone or email (if the information is added to the contact in the Contacts Tab).