Application Overview
The Service Desk application screen is structured using the following components:
Header Bar

The Header bar is home to the following features:
Feature
Description

Toggle expand/collapse Navigation Panel

Installation title - This is also the default 'from' name on emails and the title on the Self-serve User Portal. Can be changed in Settings - General Settings - Branding.

'New' dropdown - Shortcut to create a new item from the following list:

LOGICcards (only available to Remote Management & Monitoring linked users) - Opens LOGICcards Login dialog. If you are able to access LOGICcards, use your RMM login credentials to sign in and view your LOGICcards alerts and notifications.

Service Desk

Voice - Shortcut to

Service Desk

Voice settings.
Search facility - Enter search term in the field to run quick search across tickets, responses, ticket tags and Knowledge Base articles. Click on search icon to open the Advanced Search. See Search Facility.

Help menu- Contains links to:

Documentation - Online Help
Request Support form
Live chat - Opens chat page in which you can start a new chat case with the Support team or access existing chat cases
Release Notes
Feedback form

User - Logged in user profile, Logout, Change language
Navigation panel
The Navigation panel can be expanded/collapsed and provides links to the following application areas: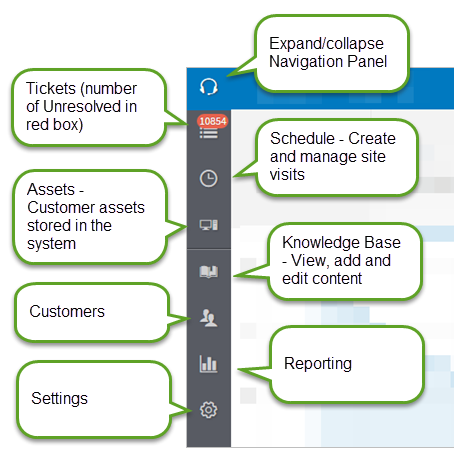 Content Panel
Links selected from the Navigation panel and Header Bar are displayed in the Content panel.