Email Log
The Email Log page displays recent (outbound-only) emails sent from your installation and any email errors. Generally, the emails captured in the log are triggered by the events recorded in the email templates listed in Settings - General Settings - Email Templates e.g. New Ticket Confirmation (see Email Templates for further details). Other logged email events include scheduled report tickets and scheduled report ticket summary.
To access the Email Log:
Go to Settings - General Settings - Email Log.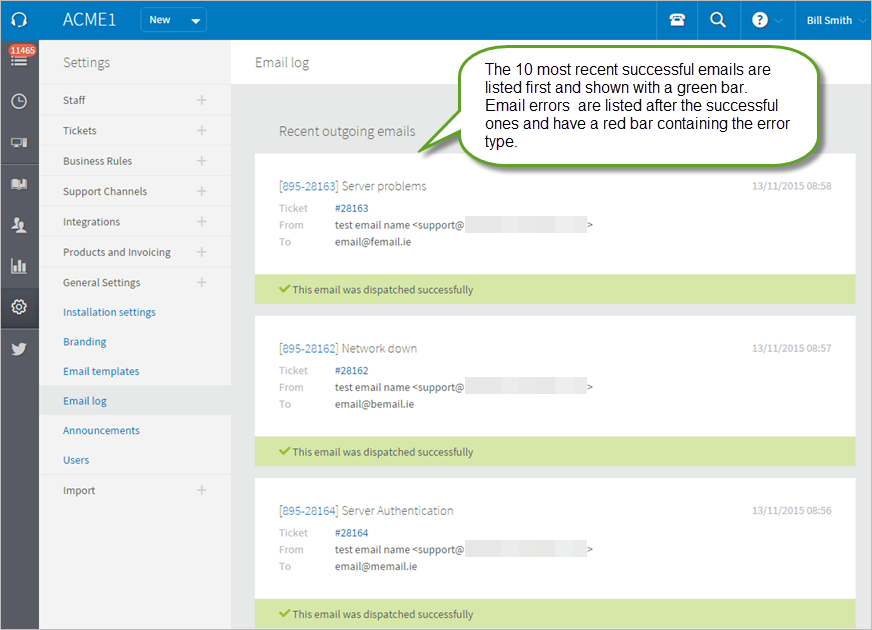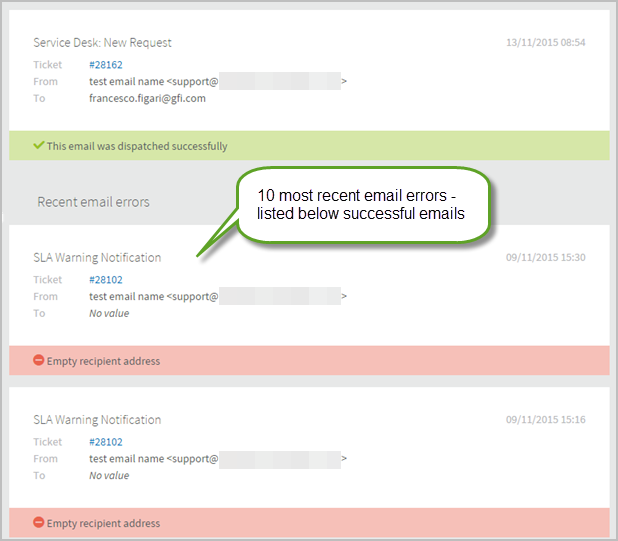 Recent Outgoing Emails
The Recent Outgoing Emails section displays the last ten emails successfully sent from your installation. Email information displayed may include:
Ticket ID - installation id followed by ticket number
Email subject - e.g. New Request, Updated Request
Ticket number - The ticket number with which the email is associated
From - The content of the Incoming Email Mapping field in the ticket queue with which the ticket is associated (Settings - Tickets - Queues). For more information on ticket queues see Setting up Ticket Queues.
To - The email recipient
You can click on a ticket to open in the Tickets page.
Email Errors
The Email Errors section displays the last ten emails which failed to be sent from your installation. Error information includes:
Error Type - The cause of the error i.e. Empty recipient address; Invalid recipient address; Volume cap reached for this recipient; Unknown error
Ticket number - The ticket number - click to open the ticket
From - The email sender
To - The intended recipient