Viewing and Editing Customers
From the Customers pages you can view and edit your existing customer details including tickets raised, invoices exported, contact details, customer users etc.
To view customer details:
Click on the Customers icon in the navigation panel:

The Customers page is displayed with a list of customers stored in the system.

If needed, you can use the search facility to search for a particular customer - or use the filters in the table to filter customers by column. For example if you want to bring all customers marked with a star to the top of the list, click on that column header.
Click on the customer you want to view (and edit if necessary). The customer's pages are displayed:
At the top of the page you can use the summary info panel to view the number of Outstanding tickets, SLA breaches and Users and Assets recorded for this customer over the period selected in the date filters. You can also see any contract time remaining (if applicable) - click on the contract link to open the contract details (see Viewing Current Contract Status).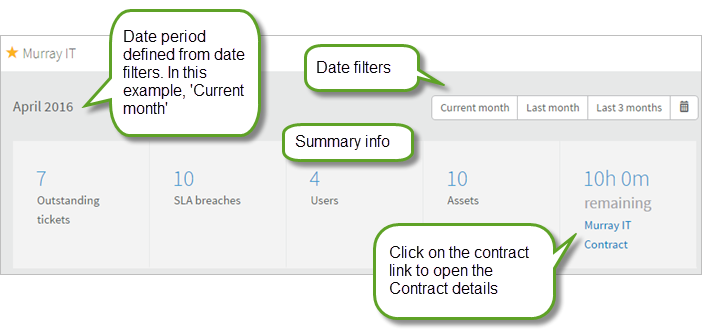 Tabs
Below the summary info panel, the following tabs are displayed:
Overview - Contains general account details including contact information, customer users and branding. See Customer Overview
Sites - Lists customer sites used for locating assets. See Customer Sites
Users - Allows you to add, edit and delete customer end-users so that they can access the Self-serve User Portal.
Contacts - From here you can add, edit and delete customer contact details. See Customer Contacts
Notes - Allows you to add and maintain any notes for this customer (these will be displayed in any tickets raised for the customer). See Customer Notes
Tickets - Lists tickets raised for this customer. Click on a ticket to open. See Customer Tickets
Opportunities - Lists opportunities recorded for this customer. See Customer Opportunities
Invoices - Displays all invoices exported to PDF and CSV format. See Customer Invoices.
Delete - Contains the option to delete the customer.

The Delete option is irreversible. See Deleting a Customer.