Access Service Desk Tickets Created in RMM
Service Desk tickets created by the RMM Dashboard can be accessed from:
Irrespective of the method used to access the ticket, the opened ticket allows you to:
Please be aware that any information recorded or displayed against the
Service Desk
ticket on the Dashboard is in the default timezone. This is configured in
RMM - Settings - General Settings - Office Hours
. To change the timezone, select from the dropdown and click
OK
to save.
Whilst in Service Desk, this information is recorded and displayed based on the timezone selected in Settings - General Settings - Installation Settings in the Localisation panel. For instruction on how to do this, see Installation Settings.
Outages Tab
The Outages tab provides information on all of the failures recorded against a device including its Description, Start and Finish time, the Duration and the initial Cause of failure.

To make management easier, listed Outages are grouped into current Open Outages and a historical list of all Closed Outages.

Where Service Desk is configured, the ticket's current status (opened, closed etc.) is displayed in the PSA Ticket column.

Click on the relevant entry in the PSA Ticket column to display the ticket details in the Outage Info dialog.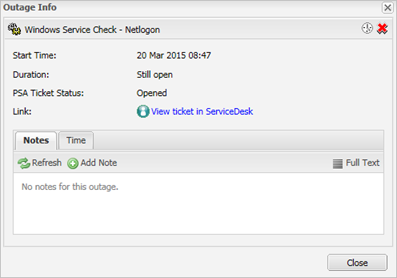 Checks Tab
In the RMM

Dashboard

click on the Checks tab:

Click on the link in the More Information column of the failed check to display ticket details in the More information dialog: