Profile deployment
After configuration profiles are uploaded to the Profile Library, you deploy the profiles on macOS and iOS devices that are enrolled in Device Management for Apple.
To manage profiles, you can:<![CDATA[ ]]>
Device Management for Apple is not supported on devices using macOS 10.12 or earlier. You cannot deploy configuration profiles to those devices using N-sight RMM.
You can also manage configuration profiles at the device level. Right-click the macOS computer in the Workstations or Mixed view, or the iOS device under Mobile Devices, select Manage Profiles, and then Install, Remove or View.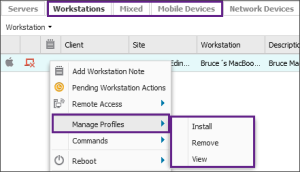 Although we provide the mechanism to deploy custom profiles through Device Management for Apple, we are not responsible for custom profiles made or used in conjunction with this product. We are not liable for loss incurred from system, hardware or data loss. It is the customer or profiles developer's responsibility to verify the integrity, actions and impact of any custom profiles.
Related topics