Enter new device details, assign Client/Site and select Monitoring Template
The N-sight RMM Dashboard uses the following hierarchical structure :
Client—Customer name or other identifier (One Client can have many Sites)

Site(s)—A grouping that includes the customer devices. A Site can be a physical location, a department, an overall device type, or any other type of grouping you define. (One Site can have many Devices)

Device(s)—Computer where the

N-sight RMM

Agent is installed
Enter details during Windows Agent installation:
When you manually install the Windows Agent, you register the new device against a Client and Site on the N-sight RMM Dashboard using the Enter your new device details dialog.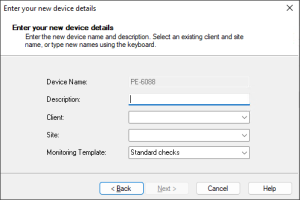 Field
Description
Device Name
Enter the name of the device to display on the Dashboard, Alerts, Reports etc.
Description
Enter a description of the device. For example, its function or role.
Client
Select the required Client from the drop-down. If the Client does not exist yet, enter a name to create the Client.
Site
Select the required Site from the drop-down. If the Site does not exist yet, enter a name to create the Site.
Monitoring Template
Select from the available Monitoring Templates or select Standard Checks to use the default checks.

For information on how to modify the existing thresholds or add Checks in the templates, see Setup the 24x7 and Daily Safety Checks.
Edit details after Windows Agent installation:
If the Windows Agent is already installed, you can edit the Agent device details using the Dashboard:
On the N-sight RMM Dashboard

North-pane

,right-click the target device
Go to Edit <device_type>
Click General Settings
Change the site and device information. For information about changing the Client/Site, see Reassign Devices to a different Client and/or Site .

For workstations, select Sync name with device to synchronize the N-sight RMM Dashboard and hostname of the device. To enter the workstation name manually, deselect Sync name with device.

Click OK to save

| Edit Server | Edit Workstations |
| --- | --- |
| | |