Company Setup
The Company Setup tab of the settings page is used to configure your company's details.
To access the Company Setup tab, navigate to Settings > General. The Company Setup tab is displayed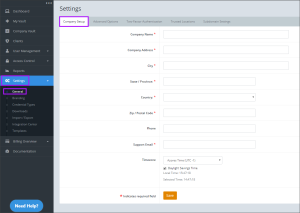 Enter your company details in the appropriate fields. These details can be updated later if required.
Support Email address: The email address that your Site product users request support to.
Timezone: Select your timezone from the drop-down list. Tick Daylight Savings Time if required,

Passportal

automatically adjusts the time accordingly when this option is selected.
When all details are entered, click Save.